For Booking Call
+91 9829318145
+91 9828550167
Salasar Dham Delivery Counter
+91 9694962109



Devsar Dhaam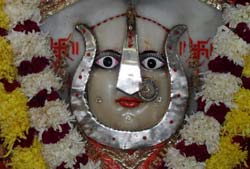 Devsar Dhaam is a location in theBhiwani District of Haryana, India. It stands on a hillock on Bhiwani-Luharu Road,and has a temple devoted to the goddess Vaishno Devi.
Devsar is a place of great religious importance. The temple of the goddess Maa Durga attracts hundreds of thousands of pilgrims from all over Northern India. Also, an important fair is held at Devsar twice a year, in the month of Chaitra and Ashvina on sudi ashtmi. During this period a large number of devotees visit this temple and pay their respects to the goddess. Especially newly married couples and newborns come here to pay their respects to Maa Durga.
Karni Mata temple, Deshnoke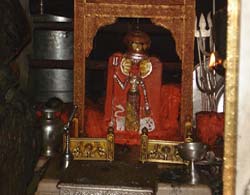 Karni Mata was a female Hindu sage born in the Charan caste and is worshiped as the incarnation of the goddess Durga. She is an official deity of the royal family of Jodhpur and Bikaner. During her lifetime, she laid the foundation stone of two of the important forts in Rajputana. She lived an ascetic life, and most of the temples dedicated to her were dedicated during her lifetime.
A temple dedicated to her during her lifetime differs from others in that it does not contain an image or idol of her but rather contains a foot-print to symbolize her visit to that place. The most famous of her temples is the temple of Deshnoke, which was created following her mysterious disappearance from her home.
The temple is famous for its rats, which are treated as sacred and given protection in the temple. This temple is near to Bikaner and Nokha. The second name of Karni mata is (Nari bai). Contrary to some reports, the temple is of the Hindu sect and is not affiliated with the Jain faith.