H.O. +91 9829318145
H.O. +91 9828550167




Salasar Bala Ji, Churu, Rajasthan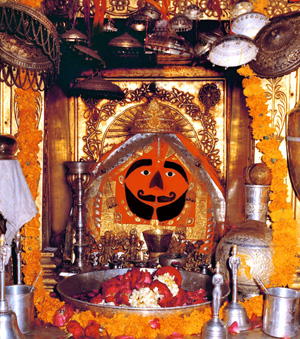 Salasar Balaji is a religious place for the devotees of Lord Hanuman. It is situated in Churu district of Rajasthan. Salasar Dham attracts innumerable Indian worshipers throughout the year. On Chaitra Purnima and Ashvin Purnima large fairs are organized every year where more than 6 to 7 lakhs of people assemble here to pay their homage to the deity. Hanuman Sewa Samiti looks after the management of the Temple and the fairs. There are many Dharamshalas to stay and restaurants to eat. The temple of Sri Hanuman is situated right in the middle of the Salasar town.

Salasar town is a part of district Churu in Rajasthan and it is situated on the Jaipur - Bikaner highway. It is at a distance of 57 kilometers from Sikar, 24 kilometers from Sujangarh and 30 kilometers from Laxmangarh. Salasar town lies under the jurisdiction of the Sujangarh Panchayat Samiti and is well connected with Delhi, Jaipur and Bikaner by regular bus service run by the Rajasthan State Road Transport Committee. Indian Airlines and Jet Air fly to Jaipur, from where Salasar is 3.5 hours drive via a taxi or a bus. Sujangarh, Sikar, Didwana, Jaipur and Ratangarh are the nearest railheads for Salasar Balaji. This city is about 170 kilometers from the city of Pilani that hosts the Birla Institute of Technology and Science. The road from Delhi to Bold textPilani is very good and Balaji is often accessed via that route by people approaching from the direction of Delhi.

Mehandipur Balaji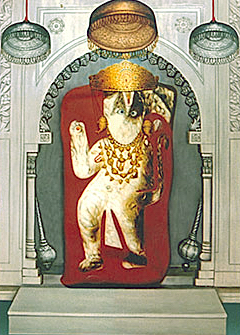 Sri Mehandipur Balaji Temple is situated in Dausa,Rajasthan.Basically Shri Mehendipur Balaji Temple is Lord Hanuman Ji's Temple.Long ago the image of Lord Balaji and that of Pret Raja (the King of spirits) appeared from the Arawali hills. Now people suffering from malignant spirits and black magic or spell get their relief when they make an appeal for relief to Shri Bhairav ji and Shri Pret Raj Sarkar who holds his court and awards punishment to the malignant spirits, ghosts, goblins, ghouls, evil eyed witches etc.Shrine of Balaji, Court of Pret Raja, Pooja griha, Bhairav ji temple and Ram Darbar are some of the spots worth seeing here.

Balaji temple at Mehandipur in Rajasthan is very Powerful place. It is believed that the deity in this temple has divine power to cure a person possessed with evil spirit.Hundreds of 'Sankatwalas', as the possessed people are refereed to in local lingo, throng to the temple everyday to offer prayers and have 'darshan'. The temple has also become a home and the last respite for the victims.The 'Mahant' of the temple, Shri Kishor Puri Ji, prescribes the treatment. It can include reading holy texts, following a strict vegetarian and simple diet, and even afflicts physical pain to one's body.

One can witness people going through various physical therapies like keeping heavy stones on their body , on arms, legs and chest , to ease their pain. There are others who inhale the smoke that fumes out of the sweet Patasa's kept on smoldering cowpats. The ones with serious case of spirit possession, who tends to get violent, are even shackled in chains within the temple premises.
Khatu Shyam ji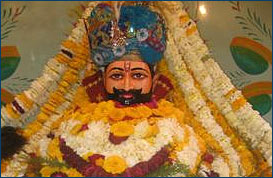 he legend of Shyam Baba can be traced back to the medieval Mahabharata. Barbareek was the son of the great Pandava brother - Bhim and Nag Kanya - Ahilawati. Barbareek, from his childhood was very brave and a great warrior. He learnt the art of fighting from his mother. Lord Shiva, pleased with him, gave him the three infallible Arrows (Teen Baan) and Agni Dev (Fire God) gave him the Bow, which would make him victorious in the three worlds.

The battle of Mahabharata was inevitable between the Pandavas and Kauravas, and having got the news, Barbareek wanted to witness the great war. He promised to his mother, that if he felt the urge, to participate in the battle, he would join the side which would be losing. He rode on the Blue Horse (Leela Ghora) equipped with the three arrows and the bow. The omnipresent Lord Krishna, disguising himself as a Brahmin, stopped Barbareek to examine his strength. He even tried to mock Barbareek saying that he was going to the great battle with only three arrows.
On this, Barbareek replied that only one arrow was enough to destroy all the enemies in the war, and it would then return to his quiver. If all the three were used, it would create havoc in the three worlds. Lord Krishna challenged him to tie all the leaves of the peepal tree under which he was standing, with one arrow. Barbareekaccepted the challenge, removed one arrow from his quiver and released it from his bow.
The arrow tied all the leaves together within moments. But Lord Krishnahad one leaf under his foot. The arrow then started revolving around his foot, and he asked the boy, whom would he favour in the war. Barbareek reiterated that he would fight for the side which loses. Lord Krishna knew that defeat of Kauravas was inevitable, and if this vrave boy joins them, the result would be in their favour.
The Brahmin (Lord Krishna) then wanted charity from the boy. Barbareek promised him anything he wished. Lord Krishna asked him to give his head in charity. The boy was shocked, but he maintained his promise. He requested the Brahmin to disclose his identity. Lord Krishna showed him his divine form.
He explained to Barbareek that before the battle, in order to worship the battlefield, head of the bravest Kshatriya needs to be sacrificed. And he considered Barbareek to be the bravest, and hence asked for his head in charity.
Barbareek requested that he wanted to see the battle till its end, and his wish was granted. Thus on the12th day of Shukla Paksha of Falgun month, he gave his head to Lord Krishna (SHISH DAAN). The head was placed atop a hill near the battlefield from where, Barbareek could watch the whole battle.
When the battle was over and Pandavas having won, they argued amongst themselves as who was responsible for victory. At this, Lord Krishna suggested that Barbareek's head had watched the whole battle, and who else would be a better judge. Barbareek's head suggested that it was Lord Krishna who was responsible for the victory, his advice, his presence, his gameplan had been crucial. He could see only the Sudarshan Chakra revolving around the battlefield which was hacking the Kaurava army to pieces and Draupadi assuming the fearful form of Mahakali Durga was drinking bowl after bowl of blood and was not allowing even one drop of blood to fall on the earth.
Shakambari Devi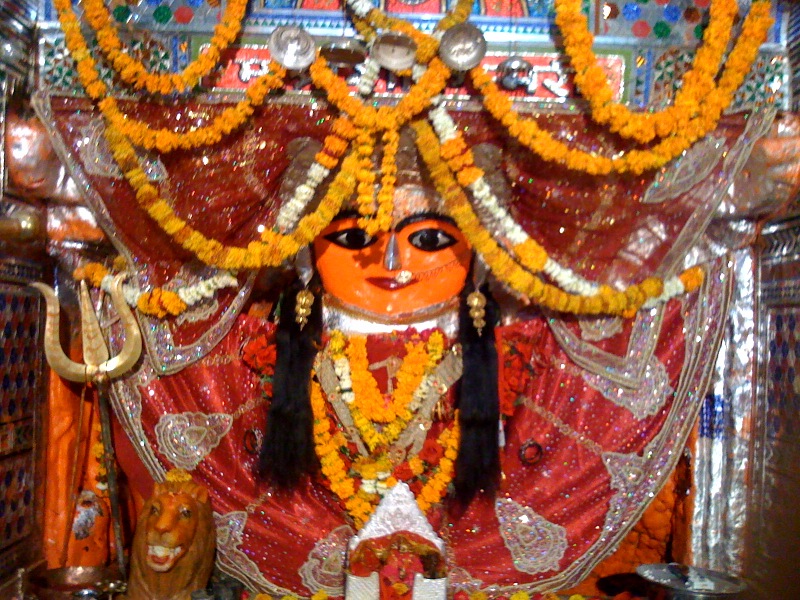 She had countless number of eyes upon Her that gave Her the name SATAKSHI. She was carrying grains, cereals, vegetables, greens, fruits and other herbs - and was hence called SHAKAMBARI.
The Demon Durgam had acquired all the four books of total knowledge (The Veda) from Lord Brahma through penance. He also gets a boon from Lord Brahma that makes sure that all the pujas, yajnas and havis being offered to the Gods reach him instead making him invincible.
Durgam became very arrogant and started tormenting the whole world. As the consequence, it did not rain for one hundred years and the whole world was hit by very severe drought.
The rishis and munis take refuge in the caves of the Himalayas, and meditate upon the Supreme Devi. The Goddess appeared in front of them bearing a wonderful form!
She had countless number of eyes upon Her that gave Her the name SATAKSHI. She was carrying grains, cereals, vegetables, greens, fruits and other herbs - and was hence called SHAKAMBARI.
She was so moved by their plights that tears rolled down from her eyes for nine continuous days and nights. The tears took the form of a river, as the result of which the drought came to an end.
The rishis, munis and the Gods then requested that she recover the Vedas, which were in possession of Durgam. Durgam came to know that people were living happily through his messengers and immediately attacked with a large army.
The Goddess protected the frail rishis, munis, Gods and others by putting up a huge wall of fire around them, and then let Her discuss hover around it. There ensued a tremendous battle between the Devi and Durgam.
Rani Sati Temple Jhunjhunu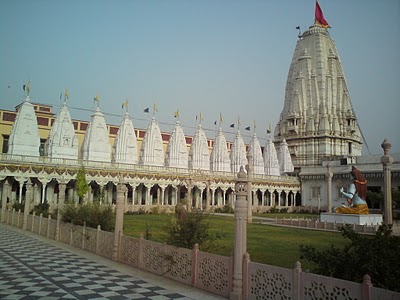 Rani Sati mandir is one of the most famous temples in Rajasthan. It is situated in Jhunjhunu town. It has a history of more than 400 years and is a testimony to feminine bravery and spirit which certainly captures the attention of all tourists. This temple is also famous for its magnanimous and rare paintings. It is also one of the oldest existing Indian pilgrimages.

A special Pujanutsav is held on the occasion of Bhado Amavasya (no moon day). This day the temple is crowded with devotees in huge number. People from all over the country visit this place to offer their puja to Goddess Sati Devi. The most remarkable feature of this famous temple is that it does not hold any painting or statue of either female or male gods. Instead a trident depicting power and force is worshipped religiously by the followers. However one can surely find a beautiful portrait of Rani Sati in the pradhan mand. The temple consists of colorful wall paintings and is structured with white marbles.
In the complex of Rani Sati temple there is also Hanuman Temple, Sita Temple, Ganesha Temple and Lord Shiva Temple. The regular 'prasad' distribution takes place after every 'aarti'. There are also arrangements made for the meals in day time on payment basis. The temple is situated within city limit of Jhunjhunu. It is beautiful and intricately crafted, not to forget the golden pot at the top of the temple.
Jeenmata Dham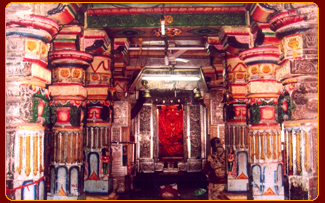 Jeenmata Dham is abode of Jeen Mata. Mata is an incarnation of the Durga. Her abode is nestled in the picturesque Aravalli hills in Raiwasa, District Sikar, State of Rajasthan in India, 115 kms from Jaipur-the state capital. The sacred shrine of JeenMata is belived to be thousands of years old. Millions of devotees throng the temple round the year.

The congregation of devotees assumes a much colourful look during bi-annual Navratri celebrations - held twice a year in the solar calendar months of Chaitra(around February-March) and Ashvin(around October-November)-popularly known as the Navratris (nine holy days).
Jeenmata temple is surrounded by thick forest on all sides, enveloped in tall mountain curtains from all sides. Its full and real name is Jayantimata. The year of its construction is not known, however the sabhamandapa(congregation hall) and pillars are definitely very old. It is believed that the Pandavas (ancient rulers of Hastinapur state of India),

came to the thick forests of this temple during their exile from Hastinapur. The Pandavas spent part of their exile here incognito and reconstructed the mandir in the style of its present architecture. The place has acquired a great religious importance and is held sacred by all. A natural grace of serenity is lent by the lushgreen vegetation and rich flora and fauna of the surroundings.
Moti Doongri Ganesh Temple Jaipur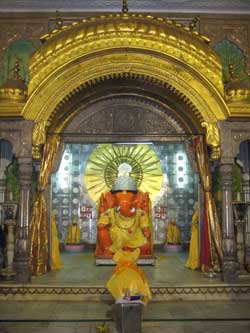 The idol of Lord Ganesh ji (worshipped first of all among all deities) is in sitting posture. Trunk of the elephant headed Lord Ganesh ji is towards his left hand which considered very auspicious. According to Hinduism, Lord Ganesh ji rides on Mushak (Rat). A big idol of mushak made of marble is also placed in front of Lord Ganesh ji. The idol is covered with vermillion (Sindoor). Application of vermillion paste to the idol of any deity is called "Chola". This chola replaces time to time. On special occasions and festivals, milk ablution of Lord Ganesh ji held in the temple. Vermillion chola also get replaced that time.
According to elderly citizens and priests of the temple, the king of Mavali (Mewar) huge idol of Lord Ganesh ji in bullock cart. He decided to build the temple wherever the bullock cart would stop first of all.
The cart stopped firstly near Moti Doongri where the temple of Lord Ganesh ji is situated at present. Then after, a business person Seth Jai Ram Paliwal took the responsibility of constructing the temple on the inspiration of Mahant (Mahant is the post of chief priest) Shiv Narain ji. The temple belongs to Shaiva sect. Shaiva sect is the followers of Lord Shiva. Shaivism is one of the oldest of the four sects of Hinduism. Shaivas, the followers of Shavisim believe that Lord Shiva is All and In All.
Lot of research is required to find out the early history of Shaiva sect, but in some of the upanishads of around 400-200 BCE the textual exposition of a systematic philosophy of Shaivism is found. During the Gupta dynasty, Shaivism spread rapidly and not limited to India but later on reached to Nepal, Sri Lanka, and few of the parts of Southeast Asia like Malaysia, Singapore, and Indonesia. Fabulous stone carving work had been done in the temple. Lattices carved in marble, and the mythological images engraved in marble are special attraction for art lovers.
Shri Dhandhan Satiji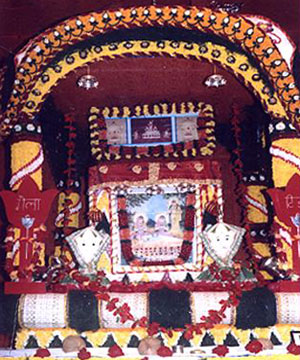 It's a known and established fact that Indian Women have always been respected and they enjoy a very high position in the society because of their honest and pure motherhood, devotion for their family with full integrity and responsibility as a home-maker and on top of that the sacrifice of their own self for the betterment of others. Because of this nature they have always been adored and remembered.

History is full of live examples of such incidences where Indian Women have created legend and acts for which they will always be remembered. The live stories of Chittaurgarh is famous for the brevity of Sati and is a burning example of the poweress of Sati.One would have read many stories of brave performances, but when we start to describe the power, strength, belief, faith and confidence of Sati Dadi ji, our neck bows down with deep regards and respect.

We have read about MahaSati Anusuiya, who converted Lord Brahma, Lord Vishnu and Lord Shankar into small children with her power and strength. We also know about Sati Savitri who because of her devotion and meditation got her husband, "Saty`avan" alive and "Yamraj" had to bow down to her wishes. Likewise there are umpteen number of examples where Indian Women have shown exemplary performances and which is being told and narrated by Grandmas to their grandchildren as fairy tales, but these are not mere stories but true fact.
Govind Devji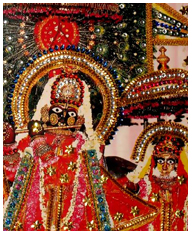 The original Govindevji was found about 450 years ago by Rupa Goswami. Govindevji was removed from Vrindaban town when the Muslim emperor Aurangzeb tried to destroy it. The original Govind dev ji Deity is now in Jaipur, in Govind Devji temple right outside the City Place. The city place is King of Jaipur's palace.
The Govind Dev Ji Temple was built in 1890 with the donation money received from Raja Man Singh. The temple is wonderfully placed between the Chandra Mahal and Badal Mahal in the City Palace complex. The Govind dev ji temple surrounded by beautiful gardens and places, this garden specially has a name Talkatora; in this garden so many attractions available for children & youngsters. Also we can say this is a romantic & peaceful garden.
Jaipur-based structural engineering firm – N M Roof Designers (NMRD) Ltd - has shot into in the Guinness World Records for designing and Constructing a Satsang Hall within the Govind Devji's Temple in Jaipur, this has reinforced concrete cement (RCC) flat roof with a single span of 119 feet "If Dubai has Burj Al Hotel – the world's tallest tower – India now has Govind Devji's Satsang Hall in Jaipur, the world's widest concrete building," says Deepak Sogani, CEO, NMRD Ltd, the structural consultants and contractors for this project.
The 15,800 sq feet pillarless Satsang Hall can seat 5,000 devotees at any given time. "We faced several engineering challenges while designing a structure of this size. Given the large width of the hall and the requirement of constructing a flat, usable roof, the only structure that could work was a grid slab. A grid or waffle slab is an RCC roof constructed employing a criss-cross square grid of deep ribs," he said.